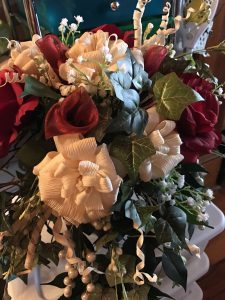 I know, I know, I always have to apologize for the lack of time and effort into keeping this page up. I did it last year too. The thing is I am kinda busy. So, Nettie's wedding went off without a hitch, this is her wedding bouquet out of corn husk that I made her. I did the main table setting and we worked on 10 smaller table top centerpieces as well. She was happy and had a beautiful turn out. I was glad to help her out. Then, I had a few craft shows that I did – so some production work was done. A few shows at the year end with me being a co-curator at the JCC site in Olean and another one at the Fredonia Incubator at Fredonia State. And now, looking into the new year.
I am starting out on a few projects, the first one will be me giving a talk at the Seneca Iroquois National Museum site, I was chosen to start 2018 as the Featured Artist of the Month, yay me! Guess I'm going to be giving a talk about my art on January 18 – showcasing my art and upcoming projects this year.
I've been grooving on my corn husk dolls lately and I know I have plenty to do regardless of what art it is.
I also have some displays up in the town of Ellicottiville just up the road here with some of my friends at their shops, one being Cupcaked downtown with Annie Coe and the other with Aurora Light and Bronze with DeBi Bacelli, stop by and see my stuff there as well as at the SINM.
So, a quick look at my girls at the photo shoot out doors. Hopefully, I'll be better this year, I'm still here kicking and weaving!