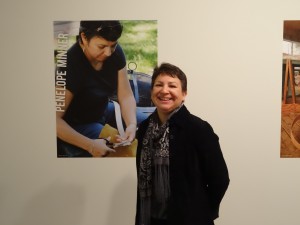 Penelope S. Minner
traditional seneca basket maker
Nya:weh sgeno. I am from the Turtle Clan and a member of the Seneca Nation of Indians located on the Allegany Territory in Western New York. By trade, I am a graphic designer, I have a strong passion for the Native Arts that I grew up with as a child, specifically traditional basket making. One of eleven children, my family is deeply rooted in the traditional arts. My father, Lester Jimerson was a wood carver/iron worker and my mother, Hazel Jimerson was a cornhusk doll maker.
I would like to share my knowledge of traditional black/brown ash basketry. Before she passed away, I worked closely with my cousin, Midge Dean Stock, who was widely known in our region for her traditional baskets.  She inspired me and is the reason I continue to forge ahead in this creative outlet.  Midge sought out and learned from a remarkable Mohawk elder, Mary Adams, and taught me what she learned from her mentor.  With the passing of Midge and Mary, as well as the loss of Kathy Mitchell, a known local Watt family member and basket maker, the skill and knowledge of traditional basket making is in danger of being forgotten in our local communities.
Sharing this knowledge with the public and within the art community is greatly satisfying and increases my passion for this art form. I was taught to pass on what I learn – to give to others what was given to me and help inspire the next generation of artisans.